SongSqueeze Samples and MainSqueeze songs
Here you can enjoy some of our work. This page also contains all of our

$99.00

Main Squeezes

that can be rewritten with customized lyrics to create your song gift. If none of these tunes suit you, think of another tune to create a

Mighty Squeeze

. Almost any tune can be customized for any event: birthday, anniversary or wedding gift, quincinera, employee Christmas parties, retirements, graduations, bat or bar mitzvahs, confirmations, moving away, new job, or any special occasion.
Lisa and Brennans Wedding Song- sung to "Aimee" by Pure Prairie League.
Randy's Birthday song- sung to "Brandy" by the band Looking Glass.
Anna's turning 50- To the tune of "Bad Moon Rising" by CCR.
Leticia's Quincinera- To tune of "La Bamba", by Richie Valens.
"Angela"- Mark's song to Angela who he secretly admires. This is an originally written song by Songsqueeze.
These Shoes- Song written for sorority house sisters annual reunion, sung to "These Boots Were Made for Walkin," by Nancy Sinatra.
Sava Papi- Song for papi's birthday sung to Beatles tune, "Here Comes the Sun".
"Beautiful Day"- A custom song for Charlie's birthday. This is a U2 song.
"You Are"- A song written from a girl to a guy that she's falling in love with. Tune by Winona Judd.
Brett Favre song parody "Unretiring" to Tom Petty's "Running Down a Dream".
Hotel California for Shiva- Birthday song to the Eagle's tune "Hotel California".
Beautiful Donya- Another love song to the tune of "It's Your Love" by Tim McGraw. Some Chinese inserted in this song.
"Modern Love"- Wedding song written for a couple's wedding reception from their family. Song originally by David Bowie.
Somewhere Over Ren's Rainbow-Originally "Somewhere Over The Rainbow" sung by Judy Garland.
Bad, Bad Buddy Hart- Sample songsqueeze, originally "Bad, Bad, Leroy Brown" by Jim Croce.
Green Eyed Girl- Wedding song given to couple to the tune of "Brown Eyed Girl" by Van Morrison.
Stephanie Girl- Sample song to the tune "Cinnamon Girl" by Neil Young.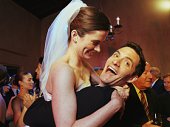 "Your Love Keeps Lifting Me Higher"- Song originally by Jackie Wilson, was rewritten and given from a husband to his wife on Valentines Day.
Song tune of "Grandma Got Ran Over By a Reindeer"- Lyrics written for an employee Christmas party.